Treasured Realm
Monthly Single-Origin Coffee - 12oz
$28.00
I have to confess: while we love sharing all kinds of coffee in the Treasured Realm series, it can be hard to beat a deliciously sweet, fruit-forward coffee from Ethiopia. As it's dry-processed (AKA "naturally" processed), the coffee cherries impart a bit of flavor onto the beans inside.

What results is a really unique experience in your cup. This month we're getting notes of berries, guava, lime, and hazelnut.
Includes 12 oz bag of coffee, info card, limited edition sticker, D&D 5e compatible magic item (this month, you get the Crown of Bounty), and a random set of dice.

Each 1st of the month, we introduce a new single-origin coffee and extras. Once we sell out, that's it until next month!
This Month's Magic Item: The Crown of Bounty
Wondrous Item, Very Rare.

This bejeweled-crown always smells of perfectly ripe fruit, and it comes with 50 charges. While wearing the crown, you can cast the Druidcraft cantrip at will. In addition, you can expend charges from the crown to cast the following spells: Goodberry (1 charge), Purify Food and Drink (1 charge), and Create Food and Water (3 charges).

By speaking the crown's command phrase and placing it upon the ground, it will cause fruit and vegetables to grow. After ten minutes of growing, the food can be eaten to replicate the effects of the Heroes' Feast spell. When the crown is used this way, it cannot create food again—via this effect or expending charges—until 7 days have passed.

The crown regains all of its charges once a year on the first day of harvest season.
Order this if...
Your campaign has taken a whimsical or colorful turn. Perhaps to a land full of candy, a myconid colony, or a multiversal romp
Pairs well with...
Baldur's Gate 3 (though I believe anything pairs well with BG3). A colorful board game like Canvas or Hues & Cues.
Roast: Light
We're letting Mormora's natural sweetness and delicate notes shine. That means roasting light, but not so light that it tastes raw or vegetal. It's a fine balance, but we think we've nailed it!
Origin: Guji, Ethiopia
Spend a little time in the specialty coffee industry and you might just find that a lot of your favorites come from Guji, Ethiopia.
Processing: Dry (Natural)
Because of this method (where the coffee cherry is left on the bean longer during processing), your cup ends up with a fruity note to it.
Welcome to the drop!
Thanks for checking out Treasured Realm! Whether you're a longtime subscriber or this is your first one, we appreciate you bringing us along to game night!
A Treasure Worth the Gold
Loved the box. Here's my unboxing video of it.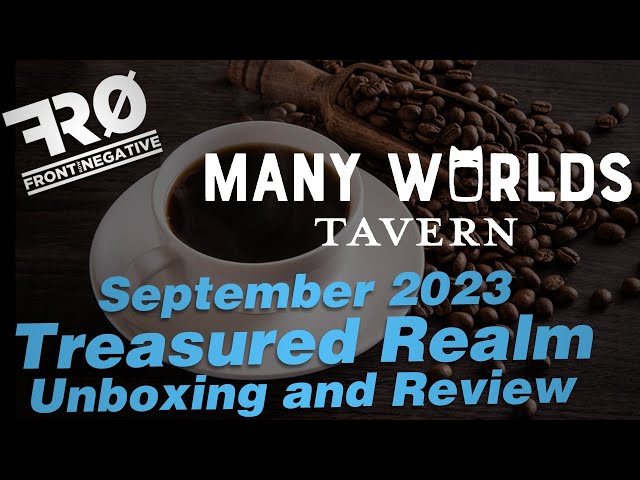 So so coffee
The first month was not very good coffee. We had to make the coffee multiple ways in order to make it palatable, settling in a fine grind with a ½tsp of salt in the ground for the brew.
The second month; we haven't gotten that one to be actually good yet, so far we have settled on coarse grind with a presteep of 45 seconds.
The dice are nice, the packaging and box extras are high quality. But, I am subscribing because I want the coffee. I know that my wife and I are coffee snobs and it can take quite a bit to impress us; that is why we are continuing to subscribe until the household has a goodie box each. At that point, if we have not been impressed, we may be unsubscribing because we are really just doing it for the coffee.
Smooth Taste
Treasured Realm has been my favorite so far. Very smooth and great for the mornings. I also loved the dice and magical artifact card they sent. Going to find a way to slip into a chest during our next campaign!
Gifted Magic Beans
I bought from here as a gift to my friend he loves DnD and coffee. He loved the coffee and the items it was a great experience.
Great Coffee
Never would've thought to try coffee from Burundi, but thanks to the Treasured Realm box I was able to and it was actually a very pleasant light roast.
Do good with your dollar and support the gaming community.
For every bag sold at Many Worlds Tavern, $1 is donated to a charity that helps gamers. This includes organizations like The Spiel Foundation, The House of Afros, Capes & Curls, Tabletop Gaymers, and the Tabletop Alliance.
Learn More About Giving Back
Become the hero of game night.
No board game night, roleplaying session, or tavern brawl is complete without something to share amongst friends. Surprise your traveling party with a fresh-brewed carafe of specialty coffee to reach max levels of hospitality.
Roasted Fresh
Your coffee is roasted within the week it gets shipped. Your game night deserves fresh coffee!
Free US Shipping at $50
Add a few bags to your cart to get free shipping. Or, check out our merch section!
High-Quality Coffee
All coffee from Many Worlds Tavern is 100% natural, free of artificial flavors or additives.